Australia: Chicken sandwiches linked to salmonella outbreak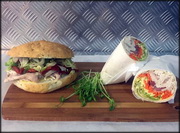 Facebook: Gawler South Bakery
30 December, 2017
A bakery north of Adelaide has been linked to more than a dozen cases of salmonella, including three people who had to be hospitalised.
On the Facebook page of the bakery, the following message appeared:
"It has come to our attention that a number of people have fallen ill with Salmonella poisoning after consuming fresh roast chicken meals from our bakery recently. It is with sincere compassion and genuine sorrow that we apologise to all the people and their families affected by this. We are working closely with Health SA to investigate the source of this event and to rectify. We have voluntarily shut down our salad bar and will go through all the necessary steps to ensure safety of our patrons. We hope this apology is received to to be genuine and in good faith. We would also like to ensure our customers that this does not affect any of our baked products or cream products. Thank you to all our customers for the last 50 years.
We extremely appreciate your Understanding.
Regards
Management Gawler South Bakery"

Chicken sandwiches and wraps from Gawler South Bakery have been linked to 17 confirmed cases of salmonella poisoning in the past fortnight, Of these confirmed cases, three patients have been so severely ill they needed to be hospitalised.