Sweden: Salmonella outbreak from Polish eggs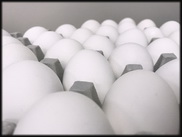 19 September, 2017
At least 12 people have been sickened by Salmonella in Sweden from eggs from Poland. The confirmed cases of Salmonella Enteritidis were reported during August and September. Persons got infected when they ate sauce béarnaise at a restaurant in Kalmar. The sauce was made from eggs and was contaminated with Salmonella.Other people in Blekinge have fallen ill with the same Salmonella type and there is a link to the consumption of raw eggs. Illness onset dates range from 25 July to 29 August and outbreak cases are from the counties Kalmar and Blekinge.
The municipality's food inspectors have banned the unnamed company that sold them from selling food and demanded it recalls eggs still on the market. Companies from other countries selling eggs to Sweden must send a certificate that they are from a layer flock tested and free from Salmonella.
An ongoing outbreak of S. Enteritidis phage type (PT) 8, has sickened more than 500 people with a link to eggs from three Polish packing centres. Based on WGS, isolates are part of two distinct but related genetic clusters. The ECDC said it does not have sufficient evidence to confirm or exclude a link between this Salmonella outbreak and the cluster of cases in Sweden.