Avian influenza found in Georgia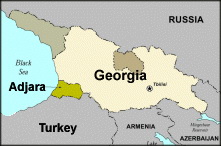 25 February, 2006
Authorities in Georgia reported finding H5N1 avian influenza in swans.
Dead swans found in the village of Adliya, in the Black Sea coastal region of Adjara, tested positive.
Countries that have reported their first H5N1 cases in birds this month, according to the World Health Organization (WHO) and recent news reports, include Iraq, Nigeria, Azerbaijan, Bulgaria, Greece, Italy, Slovenia, Iran, Austria, Germany, Egypt, India, France, Hungary, and Slovakia.