Denmark confirms H5N1 avian influenza on poultry farm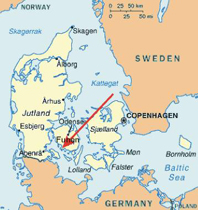 18 May, 2006
Denmark has confirmed an outbreak of the H5N1 avian influenza strain on a backyard poultry farm on the island of Funen.
The farm consisted of around 100 birds, including laying hens, ducks, geese and peacocks, and was located in the same area in Denmark where cases of H5N1 bird flu occurred in wild birds in March.
Earlier on Thursday, Denmark halted exports of poultry from Funen. The government said the outbreak might also force Denmark to halt all its poultry exports to some countries, not just those from the island.