Canada finds avian influenza, unclear what virus strain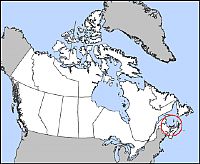 17 June, 2006
Canada has detected a case of H5 avian influenza in a dead gosling at a poultry farm in eastern province of Prince Edward Island and plans further testing over the weekend to determine the strain and virulence, government officials announced on Friday (16/06).
A gosling in a small backyard poultry flock in the western end of the tiny province contracted the disease, but there is a low risk of human illness from the case, the chief health officer for Prince Edward Island said in a news release.
The H5 avian influenza strain was already found in this area in November 2005.