South Africa (SA) finds avian influenza in ostriches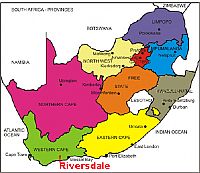 3 July, 2006
An outbreak of highly pathogenic avian influenza has been reported at Riversdale in Western Cape province in an ostrich rearing farm (58 ostriches) aged 4 months.
The diagnosis has been established on 1 July 2006 by the Agricultural Research Council Onderstepoort Veterinary Institute by RT-PCR and sequence analysis.
Tests confirmed the presence of the H5N2 strain (highly pathogenic avian influenza virus).
Preliminary surveillance indicates that the outbreak is probably limited to the single farm (8 cases) in which the disease was detected. The farm has been put under quarantine (10-km-radius zone) and all 58 ostriches have been destroyed on 1 July 2006. Culling of all other poultry in the index farm was completed on 3 July 2006.