Spain detects H5N1 avian influenza for first time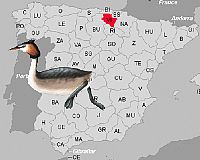 7 July, 2006
A Spanish laboratory has confirmed the country's first case of H5N1 avian influenza after analyzing a sample taken from a wild migratory water bird, the Agriculture Ministry said on Friday.
The dead great crested grebe, Podiceps cristatus, was found in the northern province of Alava and a sample sent to the National Reference Laboratory on Thursday revealed "high pathogen" H5N1, the ministry said.
The Madrid region has ordered all poultry farms to enclose their birds, whether close to wetlands or not, and others may follow suit. But many smallholders in villages also keep chickens unregistered in their backyards.
The European Commission said it had been informed of the test result.