Newcastle (and avian influenza ?) in Bulgaria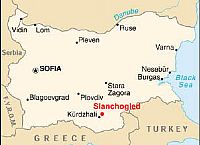 27 July, 2006
Bulgaria has introduced a ban on exports of live poultry and poultry products to the European Union as a preventive measure against the spread of the Newcastle disease that was detected earlier this month in a southern area.
The order was issued by the veterinary medical service head Zheko Bajchev. It will be in force until the European Commission delivers its verdict on exports of poultry products from the village of Slunchogled, the region of Kurdzhali, where the infection is believed to be a combination of Newcastle disease and avian influenza.
The decision of the European Commission is expected on August 15.
The village of Slanchogled, whose population are predominantly ethnic Turks, is quarantined for a period of twenty-one days in an attempt to prevent the spread of the virus.
Preliminary tests show the avian influenza virus may prove different from the deadly to humans H5N1 strain.
Samples have been sent to the European Union's reference laboratory for avian influenza in Weybridge, near London, for further tests to determine the avian influenza strain.