The Netherlands: low-pathogenic avian influenza in a poultry farm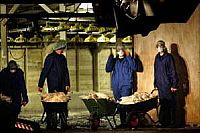 3 August, 2006
Dutch authorities have detected a case of low-pathogenic avian influenza in a poultry farm, in the central region of Gelderse Vallei.
The virus strain has been found to be H7.
25,000 chickens were culled at a farm infected with a low-pathogenic H7 bird flu strain on Wednesday and sealed off another 130 farms to prevent a major outbreak.
Authorities in the Netherlands, set up a 3-km (1.5-mile) safety zone around the infected farm and temporarily sealed off all the 130 poultry farms in the zone, ordering their chickens to be kept inside.
Trade and transport of live birds, meat and eggs as well as other live animals in and out the safety zone were banned.
All exhibitions and fares involving live birds have also been prohibited.