Dead ducks prove avian cholera moving north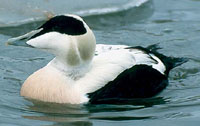 30 October, 2006
More than 3,000 common eider ducks (Somateria mollissima) found dead on Nunavut's South Hampton Island this summer were infected with avian cholera, a scientist with the Canadian Wildlife Service says.
The disease was first detected in northern Quebec three years ago when about 200 dead birds were found.
The disease spreads quickly when a large population of birds gathers in one area (CBC.ca).