S. Korea reports suspected Avian Influenza case in southwest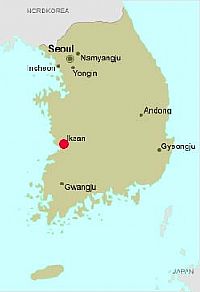 23 November, 2006
The South Korean government said today it has discovered a suspected case of the avian influenza virus at a chicken farm in the southwestern city of Iksan.
The country went on high avian influenza alert this month as migratory birds that can spread the deadly disease flock to the country for the winter, the Ministry of Agriculture and Forestry said.
"About 6,000 birds out of 13,000 chickens raised on the farm have died from Sunday through Wednesday," said Kim Chang-seob, chief veterinary officer at the Agriculture Ministry.
He said the government received word of the outbreak yesterday when more than 5,000 birds died suddenly on the farm. He said judging from the large number of deaths and initial tests conducted, the virus is likely to be of the virulent strain.
The farm does not sell the chickens it raises for consumption, but produces eggs and chicks that are sold to other growers.
The ministry is expected to confirm details on the virus late Saturday after samples of the suspected virus are being thoroughly analyzed at a state lab, Kim said.
South Korea was the first country to report avian influenza when the latest outbreaks, the largest and most severe on record, began in Asia in mid-2003.
From December 2003 to March 2004, 5.3 million ducks and chickens were destroyed at a cost of 150 billion won (now 160 million US dollars). In December last year the nation had declared itself free of the virus.