Newcastle disease in Latvia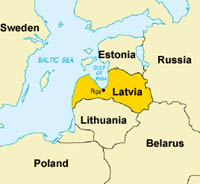 27 November, 2006
Newcastle diseases was never reported before in Latvia.
Report date: 24 November 2006.
Identification of agent: avian paramyxovirus type 1 (APMV1), lineage 4.
Date of first confirmation of the event: 17 November 2006.
Date of start of the event: 27 September 2006.
Clinical disease: no.
Nature of diagnosis: laboratory.
Location of the outbreaks: Valmiera, Blome and Strenci cities (Valmiera and Valka districts).
Number of animals in the outbreaks: 9 cases (9 deaths).
Description of affected population: wild pigeons found dead and sent for testing within the framework of avian influenza passive surveillance programme.
Laboratory where diagnostic tests were performed: VLA-Weybridge, United Kingdom (OIE Reference Laboratory).
Diagnostic test used: virus isolation (OIE).