Nigeria: Avian Influenza returns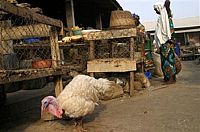 21 December, 2006
A fresh outbreak of avian influenza has been reported in Nigeria, a development which has provoked fears of long-term risks.
Spokesman of the Nigerian Veterinary Association, Bala Mohammed, said more states have reported new cases of the diseases in the last few weeks.
The association said the highly pathogenic H5NI strain of avian influenza remained a major problem in Nigeria and warned that the country risked triggering an even bigger round of infection.
"What we considered a resurgence is becoming alarming. "From an initial three, then 10 states, almost all the states have been having a recurrence.
"In the last few months, we've heard about it in Delta, Akwa Ibom, Rivers, Cross River states and a lot of cases in Lagos," he said (Nigerian Tribune).