Egypt: A family cluster of avian influenza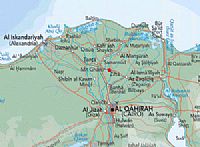 Egypt
24 December, 2006
Egypt detected three new human avian influenza cases, all of whom came from a family in the Egyptian Delta governorate of Gharbiya (Zifta), some 90 km north of Cairo.
A sister, 15, and brother, 26, and a 30-year-old woman were diagnosed over the past week with the lethal H5N1 virus, said Hassan el-Bushra, a WHO regional adviser.
Bushra said the family raised ducks in their home, and the brother and sister had slaughtered the flock after a number of ducks had become sick and died.
The 30-year-old woman died today she had been in hospital since mid-December. Her death brings the number of total human deaths from H5N1 in Egypt to eight.