Australia: Raw eggs linked to salmonella outbreak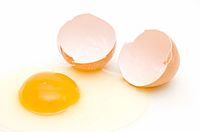 26 December, 2007
Improper use of raw eggs has been blamed for 50 cases of food poisoning in New South Wales (NSW) in the past three weeks.
A group of 35 people fell ill, probably from salmonella, after eating homemade fried icecream with a coating made of raw egg batter at a party. There were also 11 cases from another gathering where raw egg was used in caesar salad dressing and chocolate mousse.
Three children also became ill after drinking affected egg nog, the NSW Food Authority said.