Russia: 600,000 birds culled on Russian farm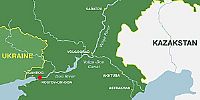 25 December, 2007
More than 600 000 chickens on the Gulyai-Borisovskaya farm in the Rostov-on-Don region have been destroyed to prevent the virus from spreading.
The virus has also sickened birds in a neighboring Tselinsky district, and authorities say they're taking steps to keep it from spreading.
In September, authorities reported an H5N1 outbreak at a poultry farm in the neighbouring Krasnodar region, and early in the year the strain was confirmed in several other regions across Russia.