Poland reports fresh outbreak of H5N1 avian influenza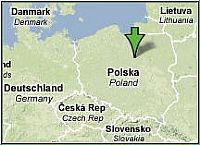 22 December, 2007
Laboratory tests have confirmed a fresh outbreak of deadly H5N1 avian influenza in the same area of northern Poland where the virus was discovered earlier this month.
The presence of the H5N1 virus has been confirmed by the State Veterinary Institute in chickens found on an egg-producing farm in the district of Zuromin. Preparations were under way to cull birds on four poultry farms in the village of Sadlowo Parcele, where 186,000 egg-laying hens are found.
This is the eighth case of the H5N1 avian influenza virus in Poland since the start of December, when an outbreak was reported at a turkey farm in the Plock area, 80 km north-west of Warsaw.