Saudi Arabia: Avian influenza in ostriches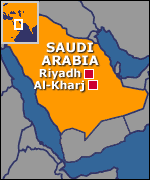 17 December, 2007
Saudi Arabia's agriculture ministry has ordered 13,500 ostriches to be destroyed following a new outbreak of avian influenza in the kingdom.
The outbreak of the H5N1 was diagnosed at a farm in the Al-Kharj region, 80 kilometres (50 miles) south of Riyadh.
Last month, the Saudi authorities ordered nearly four million birds culled in the face of at least 14 separate outbreaks of avian influenza.