Canada: High-Pathogenic Avian Influenza Found at Saskatchewan Farm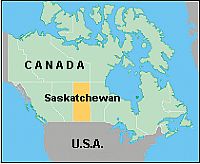 Canada, Saskatchewan
28 September, 2007
Highly pathogenic H7N3 strain of avian influenza has been detected in a broiler breeder operation in Saskatchewan. All 50,000 birds on the premises will be destroyed to prevent the infection from spreading. The farm located in a rural area about 90 kilometers northwest of Regina, has been quarantined by the CFIA. A three-kilometre zone around the operation has been established around the poultry operation northwest of Regina, but there are no other commercial poultry operations within that area. One other poultry operation that falls within a 10-kilometre radius will be monitored closely. Initial virus molecular pathotyping indicate that the virus has a high pathogenic molecular pattern.
In February 2004, a H7N3 strain of avian influenza hit B.C.'s
poultry industry and officials ordered some 17 million birds killed. Two people also had some mild symptoms.