Thailand: avian influenza outbreak detected in Phichit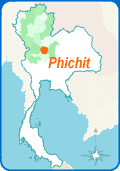 Thailand
27 September, 2007
Avian Influenza outbreak has erupted in Taphan Hin district, which is now declared an outbreak-hit zone.
Taphan Hin district chief Tatchapong Paekwamdee Thursday said lab tests had confirmed that the H5N1 virus killed a number of local chicken there.
"As of now, 90 fowls within one kilometre radius from where the infection was detected have been culled," he said.
He added that local livestock officials had now been spraying disinfectants in chicken coops.
Phichit is situated in the lower Northern Region of Thailand.
The latest case of avian influenza in Thailand was on March 2007 in Mukdahan province.