Dead bird tested positive for H5 in HK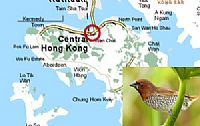 Hong Kong
5 January, 2007
A wild bird found dead in a shopping district in Hong Kong (Leighton Road, Causeway Bay) has tested positive for H5 avian influenza and government experts said it might have been infected by migratory birds flocking south.
"Preliminary tests show H5 but we will make further tests to confirm ... if it's H5N1," said a government spokesman.
The Scaly-breasted Munia was found dead along with five others in Causeway Bay district, but the others tested negative.
"This is a local bird. It is possible that migratory birds, while stopping here, could have come into contact with our local birds and infected them," said Thomas Sit, assistant director of the Agriculture, Fisheries and Conservation Department.