UK: Avian influenza H5N1 on a turkey farm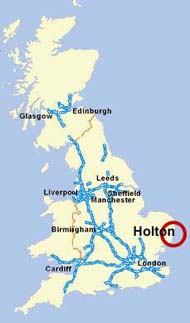 UK
3 February, 2007
Avian influenza H5N1 was confirmed on a Turkey farm at Holton near Halesworth in Suffolk (About 2,500 turkeys are thought to have died). There are 160,000 turkeys at the site in 22 sheds
The Bernard Matthews company produces 8 million turkeys every year in the UK, rearing them on 54 farms throughout Norfolk, Suffolk and Lincolnshire.
In April, 50,000 chickens were culled after an outbreak of the H7 avian influenza in Norfolk. In April, a poultry worker contracted H7 in the form of conjunctivitis - he is thought to have caught it on the Norfolk farm where the disease was discovered.
A swan found washed up in a Scottish bay in April 2006 tested positive for H5N1.