Turkey confirms return of avian influenza in chickens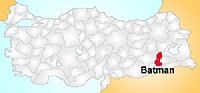 Turkey
8 February, 2007
Turkey's farm ministry confirmed on Thursday an outbreak of avian influenza in the southeast of the country, just over a year after the deadly H5N1 strain of the disease killed four children in the region.
The ministry said in a statement avian influenza was found in a village (Bogazkoy) in the Batman province.
The outbreak was first reported in the village of Bogazkoy near the town of Gercus on Feb. 5. According to the Turkish report to the OIE, vaccination is permitted !
Turkey's last outbreak of H5N1 in birds was in March 2006.