UK: Bernard Matthews admits 'possible' Hungarian avian influenza link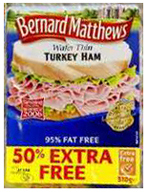 UK
9 February, 2007
Bernard Matthews admitted for the first time today the possibility that it may have been responsible for an outbreak of lethal avian influenza at one of its turkey farms in Suffolk - but said that its paperwork appeared to prove that it had done nothing wrong.
Britain's largest turkey producer is facing an inquiry after it emerged last night that it had imported 37 tonnes a week of partly-processed turkey meat from Hungary despite an outbreak there last month of the H5N1 strain of avian influenza.
After analysis of the virus's DNA showed that the strains from the UK outbreak in Holton and the Hungarian outbreak were probably identical.
The Bernard Matthews firm agreed last night to suspend all further trade between Hungary and the UK.
One of the deliveries of partly processed turkeys from Bernard Matthews' Hungarian plants arrived at Holton just a couple of days before January 27, when workers first spotted signs of illness in the eight-week-old chicks - It appears that a single abattoir in Hungary was handling both the geese that were infected with H5N1 and the turkeys destined for Suffolk. The abattoir would have been swilled out and disinfected once the geese were killed but it's very easy for the virus to have been passed on to the turkeys.