Turkey: Avian influenza in several southeastern villages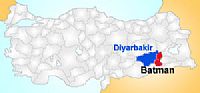 Turkey
15 February, 2007
Agriculture authorities announced today that the H5N1 strain of the avian influenza virus has been detected in three villages following an outbreak in another southeastern village.
Authorities said laboratory tests confirmed the strain in the villages of Doluca, in Batman province, and in Akcayir and Yesilalan in neighboring Diyarbakir province. The H5N1 virus was first detected in the village of Bogazkoy earlier this month.
Authorities said a total of more than 3,500 birds have been culled in the affected villages. Hundreds of domestic fowl have died in the area over the past week and authorities have quarantined several villages.