Dozens more H5N1 avian influenza cases in Germany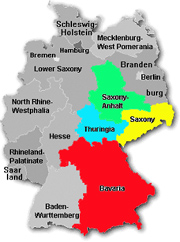 Germany
6 July, 2007
German authorities reported 38 new cases of H5N1 strain of avian influenza.
The regional authorities in
Sangerhausen
in the state of
Saxony-Anhalt
said 38 dead birds found on the shores of an artificial lake near the town of
Kelbra
had all tested positive.
Saxony-Anhalt is the fourth of Germany's 16 states to report cases of H5N1 avian influenza since late last month, when it struck down six wild birds in the southern city of Nuremberg in Bavaria.
Germany has ordered farmers to keep poultry indoors as bird flu has been discovered in a total of four German states: -
Bavaria, Saxony, Thuringia and Saxony - Anhalt.