Hong Kong finds egret with avian influenza in city park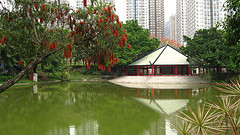 24 November, 2007
A little egret found in a Hong Kong park has tested positive for the H5N1 avian influenza virus.
The bird was collected at the Tuen Mun Park in the New Territories on Nov. 18, the city's agriculture, fisheries and conservation department said in a brief statement.
It urged Hong Kong residents to avoid personal contact with wild birds and live poultry, and to clean hands after any contact.
It is not the first appearance of the disease in the territory: at least 17 infected birds were discovered in the first half of this year.