Germany reports new H5N1 outbreak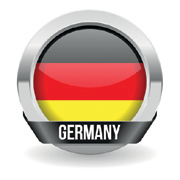 10 October, 2008
Animal health officials in Germany today reported an H5N1 avian influenza outbreak at a commercial farm in Saxony, signifying the country's first outbreak since December 2007.
The outbreak was detected at a farm in Markersdorf, in east central Germany not far from the border with Poland.
According to the OIE report, the H5N1 in the single bird was detected during "routine laboratory investigation." There were no movements of animals into or out of the affected farm within the last 21 days, the report said.
The OIE report said 1,434 of the remaining birds were culled to control the spread of the disease. The farm contained 800 geese, 550 ducks, 60 chickens, and 24 turkeys.
Several ducks tested positive for the H5N1 strain of avian influenza. Tests confirmed that the animal was infected with the highly pathogenic form of the disease.
Authorities began killing poultry at 4 a.m. and have set up a three-kilometer (1.9 mile) quarantine, said Ralph Schreiber, a Health Ministry spokesman in the German state of Saxony. The sick duck was found in an area with several poultry farms, including one with 70,000 animals.
Avian influenza was last found in Germany in December 2007 in chickens at a small hobby farm. There have been no reports of the disease in neighboring countries since March, when a wild duck tested positive in Switzerland.
Preliminary sequence and phylogenetic analysis of the HA gene from 4 duck samples gave evidence for a representative of a cluster 2.2 sublineage which had been detected in spring 2006 in Southern Germany. The cleavage site sequence was confirmed as GERRRKKR*GLF on 9 Oct 2008.