Avian Influenza H7N7 confirmed in Oxfordshire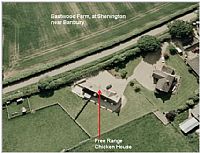 UK
5 June, 2008
On 3 June, Avian Influenza was confirmed in laying hens at a farm in Banbury, Oxfordshire. The strain is highly pathogenic H7N7. Preliminary analysis also indicates that this H7N7 strain is likely to be related to viruses which have occasionally been detected in domestic poultry and wild birds elsewhere in Europe. Further laboratory tests are in progress.
A Protection Zone of 3km and a Surveillance Zone of 10km have been established and bird gatherings and movement restrictions apply within these zones.
Because H7N7 viruses have caused infection and disease in humans, surveillance and diagnosis should be anhanced in humans and in susceptible animals in countries where cases of H7N7 infection are detected.