Avian Influenza in Primorye in Southeastern Russia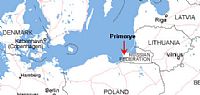 Russia
12 April, 2008
Russia's agriculture ministry confirmed a avian influenza outbreak in a village in the Far East region of Primorye which was quarantined after scores of chickens died.
Authorities in Russia's Far East confirmed the presence of avian influenza in a village in the Primorye territory.
This story says that more than 40 birds have been slaughtered at the farm, and quarantine has been introduced in the area. A total of 350,000 birds have been vaccinated.