Ukraine finds H5N1 avian influeza in Crimea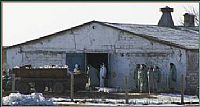 Ukraine
18 January, 2008
A new outbreak of avian influenza H5N1 has struck Ukraine after being kept under control for two years.
Ukraine's Veterinary Inspectorate said the outbreak was detected this week in the village of Rivne in the Crimean peninsula, the same region hit in late 2005. A total of 153 birds died suddenly at a private firm where more than 25,000 poultry were kept.
The last registered outbreak of avian influenza in Ukraine was in June 2006.