India: avian influenza confirmed in west Bengal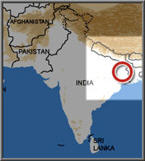 India
15 January, 2008
Culling of thousands of chickens began in West Bengal after preliminary tests on dead poultry indicated they had avian influenza. Unconfirmed reports said more than 50,000 poultry died showing avian influenza symptoms in many farms.
Death of poultry has been reported from parts of Birbhum and South Dinajpur districts over the past 10 days. Thousands of backyard poultry in the Birbhum region have died.
Poultry samples were sent to the High Security Animal Disease Laboratory (HSADL), Bhopal.
The Indian government confirmed that the outbreak of avian influenza was due to the H5N1 strain.
Officials said culling of about 400,000 chickens within 3 km (2 miles) of the affected areas would begin on tomorrow. In previous outbreaks, the virus killed birds in the western state of Maharashtra on two occasions and broke out again in Manipur state in the northeast last August.