UK: Salmonella investigation after nine outbreaks and two deaths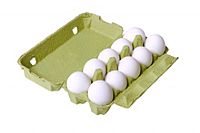 31 October, 2009
Around
130
people have fallen ill with the same strain of
Salmonella
linked to
poultry
and
eggs
since August across
England and Wales
.
Five outbreaks have been linked to oriental restaurants, three to other restaurants and one was in a care home.
Two people with the infection died in the care home, which has not been named by officials, but post mortem results have proved inconclusive about the cause of death.
Three other people have been treated in hospital.
The Health Protection Agency is investigating the outbreaks as it is thought a common food source could be responsible, particularly because the cases involve the same strain of the Salmonella infection.
Poultry and eggs are considered the most likely source and officials are interviewing patients to establish any patterns in what they have eaten.
The strain involved in the outbreaks, known as
Salmonella Enteritidis PT14b NxCpl,
is showing some resistance to an antibiotic.
There have been a total of 259 cases in England and Wales since August, 136 of which are connected to the nine outbreaks.
The report said: "Preliminary investigations have suggested putative links to chicken and/or eggs in some outbreaks, and this is being actively tested through analytical epidemiological studies and appropriate investigation of supply chains."