Cote D'Ivoire: Highly pathogenic avian influenza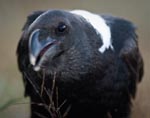 16 October, 2009
H5N1
virus was diagnosed in wild birds in
Cocody
township, Abidjan.
The diagnosis was made on
Corvus albicollis (white-necked ravens)
that died suddenly while they were flying over the Secondary school located at Cocody in Abidjan. Nine birds were found positive. The school was closed for 3 days. The staff having handled the birds is under medical supervision.
The site and its surroundings have been completely disinfected.
A surveillance zone was established within a 2km radius around the point where the birds fell.