Denmark: Salmonella in eggs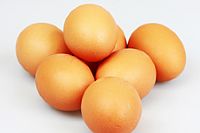 3 July, 2009
The National Food Directorate says that forty people have contracted Salmonella Enteritidis since May, probably as a result of fried eggs or raw eggs that have not been heated properly.
In several cases, the eggs have been traced back to the Møllebjerggård Ægpakkeri egg packaging plant and a producer that delivers eggs to the plant has been put under observation. The Directorate has ordered eggs from the producer in question to be withdrawn from the market.
The eggs in question are from the Møllebjerggård Ægpakkeri in packs of six, ten or 30 eggs with 'best by' dates of between May 26 and July 22, 2009 and bearing the egg stamp CHR 52395.
Møllebjerggård Ægpakkeri supplies eggs to a number of wholesalers on the capital island Zealand, who in turn supply restaurants and kiosques.
The Directorate has urged consumers who have bought eggs from Møllebjerggård to either return or destroy them.