OIE: Don't call it Swine Influenza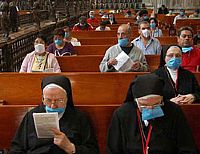 A/H1N1 influenza like human illness in Mexico and the USA: OIE statement
27 April, 2009
A virus circulating in Mexico and the USA and involving person to person transmission appears to cause in some cases severe disease in certain people infected by this virus.
It is not a classical human influenza virus called seasonal influenza, which causes every year millions of human cases of influenza worldwide but a virus which includes in its characteristics swine, avian and human virus components.
The virus has not been isolated in animals to date. Therefore, it is not justified to name this disease swine influenza. In the past, many human influenza epidemics with animal origin have been named using their geographic name, eg Spanish influenza or Asiatic influenza, thus it would be logical to call this disease "North-American influenza".